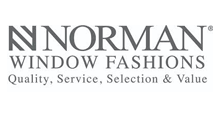 Explore how Norman can help you blend styles, textures, colors and materials, together in a variety of ways, from classic traditional to modern chic. Our suite of custom shutters, blinds and shades can enliven any space, or help coordinate your existing design elements and furniture.
In our Dorchester store we stock a variety of rollup shades available for same-day service. These window shades are available in a wide range of sizes. The pull-down blinds are made of durable vinyl fabric and will last many years.
Drive in Paint Mart will do it all from going out for a free measurement.